Webster Technique Chiropractor in Los Angeles and Simi Valley

Are you looking for a Webster Technique chiropractor in Los Angeles or Simi Valley? According to ICPA, Chiropractic care during pregnancy is vital to the normal physiological function of both the mother and baby throughout pregnancy and birth. More women and birth providers are discovering the many benefits associated with chiropractic care in pregnancy and recognize this area of expertise through Webster Technique.
The Webster Technique is a specific chiropractic sacral analysis and diversified adjustment. The goal of the adjustment is to reduce the effects of sacral subluxation/ SI joint dysfunction. In doing so, neuro-biomechanical function in the pelvis is facilitated.
Sacral subluxation may contribute to difficult labor for the mother (i.e., dystocia), caused by inadequate uterine function, pelvic contraction, and baby mal-presentation. Correction of sacral subluxation may have a positive effect on all of these causes of dystocia.
If you are looking for a Webster Chiropractor in Los Angeles, call our office today.
---
Webster Certified Chiropractor in Los Angeles and Simi Valley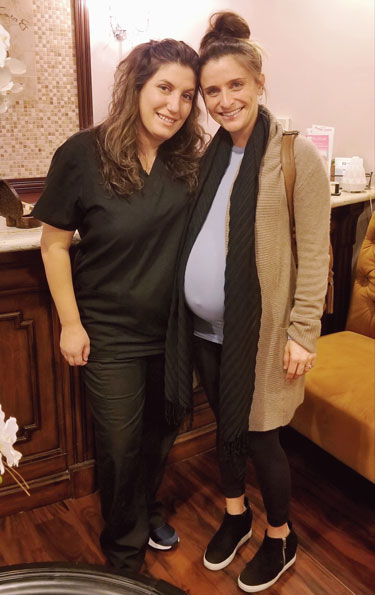 Dr. Heather Valinsky, the owner of Nurture Family Chiropractic, has received the extensive training associated with receiving the CACCP accreditation as well as Webster Technique to address pains associated with pregnancy and to address breach baby presentation and specialized care for your newborn infant.
The Webster Technique has become a familiar term in pregnancy and birth conversation. Families are seeking out chiropractors who are proficient in this technique as a way to support a more comfortable, safer, and easier birth.
Dr. Larry Webster, the founder of ICPA, Logan practitioner and Life College instructor, developed the Webster Technique in response to his daughter, Lucinda's birth to her daughter, Shannon. Dr. Webster was present at her long and arduous birth and although he adjusted her during the birth, he felt that chiropractic could have a bigger impact in labor with a more specific approach to the pelvis.
In the past few years, more than a dozen case studies have proven the effectiveness of the Webster Technique.  As such, more and more midwives and obstetricians are recognizing the value of the Webster Technique as a non-invasive approach to malpresentation and refer their patients to Chiropractors like Dr. Heather Valinsky of Nurture Family
Chiropractic Care During Pregnancy
In a 2010 survey (Mullin et al.) of 187 midwives from across the US, it was reported that 88% of respondents had referred patients to chiropractors and of those who had referred, 94% referred for fetal malposition.
The Journal of Manipulative and Physiological Therapeutics reported in the July/August 2002 issue an 82% success rate of babies turning vertex when doctors of chiropractic used the Webster Technique.
Further, the results from the study suggest it may be beneficial to perform the Webster Technique, as soon as the 8th month of pregnancy, when a woman has a breech presentation.
Currently, the International Chiropractic Pediatric Association (ICPA) recommends women receive chiropractic care throughout pregnancy to establish pelvic balance and optimize the room a baby has for development throughout pregnancy.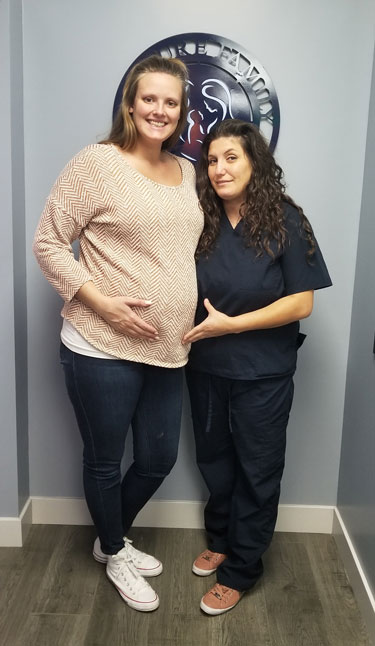 At Nurture Family Chiropractic, Dr. Heather Valinsky has observed that her patients who receive pregnancy care starting around the 2nd Trimester of their pregnancy to address discomfort and followed her specific care plan, saw no/less pain throughout their pregnancies. The majority of pregnancy patients receiving care with the Webster Technique, when checked at 32 weeks by their Obgyn or Midwife saw their babies were head down in the correct position. Dr. Heather Valinsky has observed that the results with this particular care can be preventative in having breech baby presentation and misalignment associated with breech babies.
After Birth
Many mothers assume that a successful outcome from the Webster Technique means that their unborn baby suffered no ill effects. However, while in this unnatural, restricted position, the fetus was under a great amount of pressure (for up to eight to twelve weeks).
The in-utero constraint may result in posture issues, jaw and lactation issues, hip dislocation, torticollis or club foot. In addition to these obvious symptoms of in-utero constraint, the birth strain may also result in subluxations and there exist silent signs of interference to the nervous system. If a baby shows any of these signs consider having their spine checked. These signs include colic, reflux, constipation, positional discomfort, extended arching, difficulty sleeping, a weak immune system, respiratory issues or digestion problems.
Dr. Heather Valinsky is a Webster Certified Chiropractor that serves the areas of Moorpark, Agoura Hills, Westlake Village, Thousand Oaks, Newbury Park, Camarillo, Fillmore, Santa Paula & Ventura, CA. Also, the Los Angeles areas of (West) Hollywood, Santa Monica, Brentwood, Westwood, Culver City, Los Feliz, Burbank, Pasadena, Silverlake, and Beverlywood.
Our family at Nurture Family Chiropractic looks forward to caring for you soon!