Chiropractor Heather Valinsky D.C.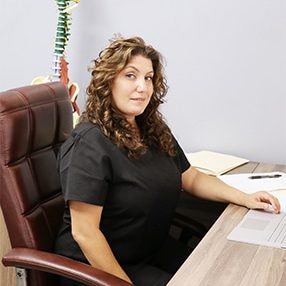 Dr. Heather Valinsky always knew she was meant to help people in need, but wasn't sure where that help lied. Her journey to becoming a Chiropractor started with a car accident, in which she lost the use of her right arm. Frustrated by the pain and unable to take medication, she went to see her family Chiropractor. He sat her down and explained in detail how the trauma caused inflammation to her muscles, the relationship between her nerves and muscles and how over time, with Chiropractic Care, she would regain full use of her arm. Shortly after, she chose to pursue Chiropractic as a career.
She attended Cleveland Chiropractic College in Los Angeles and received her Bachelor's of Science in Human Biology and Doctorate in Chiropractic. She learned that Chiropractic is so much more than just getting someone out of pain. It's about helping the body function at optimum levels by removing interferences in the nervous system and allowing the body to heal itself naturally. It improves motor function, immune system health, brain function and overall body health.
Dr. Heather Valinsky, owner of Nurture Family Chiropractic, uses a very hands on approach to Chiropractic Care, using machines and equipment only when absolutely necessary. She listens to the patients needs and concerns, and tailors a specific care plan to address each individual patient's injury/pain. She offers the latest technology and techniques to improve her patients health and works closely with Pediatricians, OBGYNs, many types Birthing Specialists, Neurologists, Orthopedists and Imaging Centers to provide the best team available for quick informative results for her patients care. Dr. Valinsky specializes in Pregnancy, Pediatrics, Family Health, Personal Injury, Pain Management and Rehabilitation. Her expertise in these areas ensures that each patient will receive the best and most current care available to them. Dr. Valinsky cares deeply for her patients and strives to provide the best overall experience to them when choosing care with Nurture Family Chiropractic.